Next General Meeting and Luncheon
May 20, 2017
12:00 noon —Mt. Hawley Country Club

Program: Nine to Five presented by: Donna Bordner
Phyliss Draper
Gladys Ivey
For reservations call:
Helen Dunn @ 685-8091 or
Carolyn McLaughlin @682-4925
June 10,2017
12:00 noon—Avanti's North!
Program: Computer Presentation on Monarch Butterfly
Presented by: Bonnie Cox
Carolyn Schelkopt
For reservations call:
Jean Horsky@ 673-9634 or
Mary Winkler@688-4838
THIS WILL BE OUR LAST GENERAL MEETING UNTIL SEPTEMBER 2017!
---
How can you strengthen your bond with AAUW after graduation?
Your opportunities are limitless at AAUW. More than 170,000 members and supporters are eager to help you continue your education or get into the workforce.
Stay connected and make a difference.
---
Women have been running for president of the United States since 1872 — before women even had the right to vote.
This year, two high-profile women entered the race, and Hillary Clinton has now become the first female presidential nominee of a major political party.
Here are some of the women who have tried to crack the ultimate glass ceiling.
---
There are many ways to honor or memorialize someone special or recognize an important event by investing in women and girls through AAUW.
Celebrate Your Milestone: Establish an Honorary or Memorial Fund
Sponsorship is a powerful way to show your support for AAUW national initiatives and see the results at the local level- Sponsor one of the AAUW programs in your community.
---
Many AAUW branches and states already have or are considering directors and officers liability insurance, which protects your leaders and organization from loss due to legal claims alleging errors, omissions, negligence, breach of duty, and other "wrongful acts." If your organization has not yet purchased this protection, we suggest considering it.
---
Help the leaders of your branch and others in your state build the skills they need to increase their AAUW impact. Use this step-by-step guide to help you reach out to and plan leadership training for your local branches.
---
Peoria, Illinois is nestled in the beautiful Illinois River Valley approximately 150 miles southwest of Chicago. As of the 2010 census, Peoria, one of Illinois largest cities, has a population of 115,000. Archeologists can trace early man in the Peoria area as early as 10,000 BC. It's shores were favorite hunting and fishing sites. French explorers, Marquette and Joliet later explored its shores.
Peoria has become famous as representative of the average American city due to its demographics and mainstream Midwestern values and culture. The city is home to a Federal Courthouse, Bradley University and World Headquarters for Cayerpillar Tractor Co.
Medicine is an important part of Peoria's economy with two large medical centers, OFS and Unity Point. A branch of the University of Illinois and the USDA 's National Center for Agricultural Utilizationdoes important  research in medicine and agriculture
The photo above is a view of the Illinois River Valley taken from Grandview Drive, aptly named the "World's Most Beautiful Drive" by President Theodore Roosevelt. ( Photo :courtesy  of Dorothy Millikan).
                                             Branch Board for 2016-17: BBackB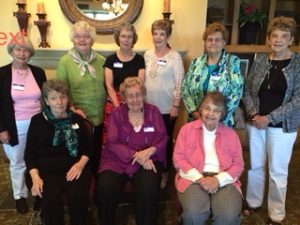 Back row: Nona Retzer, Maryann Armbruster, Shirlee Harper, Carolyn MacLaughlin, Phyllis Close, and Roberta Stiles. Front row: Luann Elwood, Pat Wagner and Maryjean Bowman.  Not pictured is Marilyn Allen, Carolyn Godby and Dee LaRue.
,
PPP